The biggest update of our WaF file so far is now ready! Among other things, you can expect even more realistic league systems, new exciting leagues for men's and women's football, revised logos for media and sponsors in a new modern design. The derbies will also provide more highlights, and many new events will be added to the game to give WaF even more life. Get the latest version now and take off again in We Are Football. Do you start directly with a Champions League candidate, work your way up to the top flight with your regional premier league team or go on a Journeyman trip through all continents?
Please note
: This is an alpha version. An alpha version denotes an early stage in the development of the patch. It is a semi-public version that is used for initial tests and feedback. So nothing is perfect yet - but we are constantly working on. But nothing works without feedback and help!
Installation Guide:
1. Download the patch from one of the download servers
2. Unzip the .zip file (right click -> Extract all ...)
3. Run the installer and install the patch in the specified folder!
It is not necessary to start the editor. Open the game, select "your database" and get started!
The database CANNOT be revised in the editor, as it is only an alpha version of our patches.
If you integrate another database into the game, you will overwrite the database of the megapatch and have to reinstall it!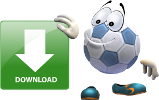 Help Us
Discussion Area
Your FM-Zocker.de team wishes you a lot of fun while gaming!