We will present Update 1 of the FM21.
Many database changes and new 2D graphics waits for you
In addition, many bugs were fixed and minor functionalities were added.
Version 1.0 must be installed for the 1.1 update
You have to unzip the zip file and run the installer (the basic principle is the same as for version 1.0, only this time there is only one zip file). Have fun with the download and a great first season from the FM-Zocker.de team!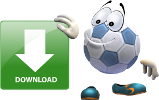 Changelog 1.1
Database & Script
General Bugfixing
Other stuff
2D Graphics
3D Graphics
3D Stadium